with Dr. Alistair King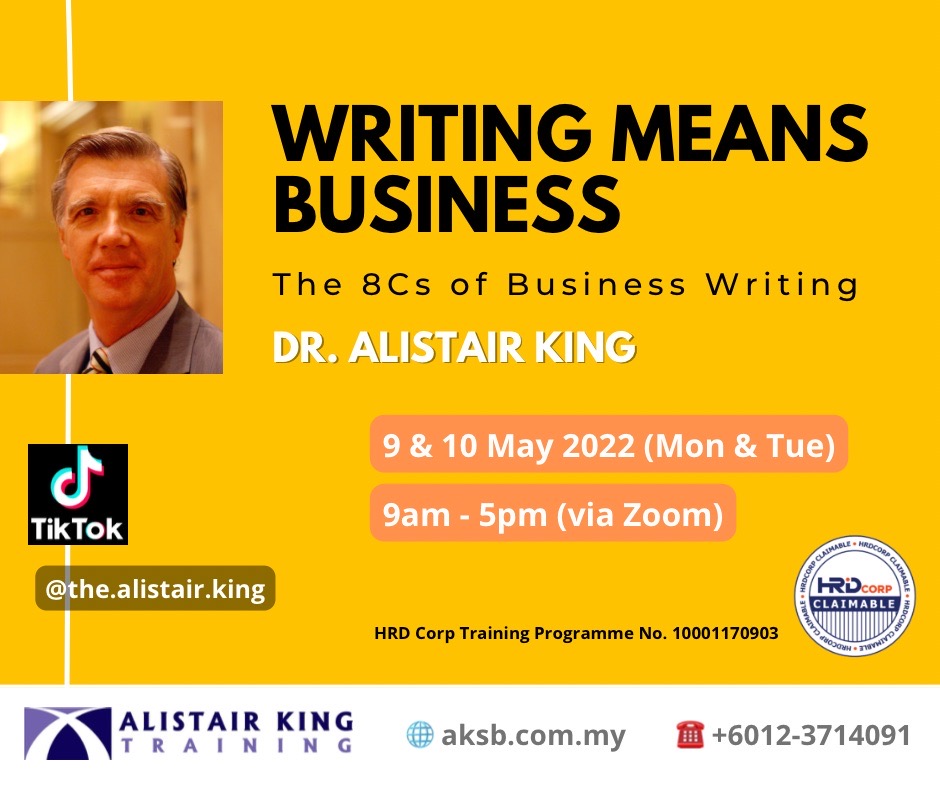 Trainer
Dr. Alistair King
Date
9 & 10 May 2022 (Mon & Tue)
9am – 5pm *Online Zoom Session*
Introduction
In today's corporate world, Written Communication is about transferring a message as effectively and economically as possible, so that the reader is in no doubt at all of the message which the writer seeks to convey.
However, the transferring of a message is not all that is done by the business writer; with the overt message come attitudes and agenda. Every piece of communication has an underlying message and a goal. The writer must ask, "What do I expect to achieve from this? How do I intend to influence and guide my reader's thought- processes and decision-making? What is the goal that I am seeking?" For the writer to ask such questions, he/she must have a clear view of the whole scenario into which the report, or any other document, fits.
The writer must display professionalism and dignity by choosing the appropriate style for the document. The writer is faced with many choices. The vocabulary / style choices that he/she makes will display the degree of interest, care and respect for the reader. At another level, the writer must display professionalism by ensuring that grammatical forms are accurate and do not allow for the possibility of misunderstandings.
Business Documents should be CLEAR, CONCISE, COMPLETE, CORRECT, COURTEOUS, COHESIVE, COMPELLING & COMMUNICATIVE. This course seeks to cover all of these areas.
Course Objectives
This course aims to provide participants with a set of skills and awarenesses which they can use with immediate effect. These skills and awarenesses are:
Transferring spoken input into written material
Understanding the progression from the beginning of the document to theend
Knowing in which type of documents to use the Active or Passive Voice
Using phraseology which is stylistically appropriate
Knowing how to connect various points in order to present the best possibleimpact and therefore, the best possible outcome
Knowing how to use the different past tenses in a way which promotesaccuracy and immediate understanding
Knowing how the various components of a document fit together and flowinto each other
Presenting the dry facts and figures in a way that tells a cohesive andengaging story
Who should attend
Managers, Senior Executives; anyone who has to write, contribute to or edit professional documents.
Investment
– RM1,400 per person (for single registration)
– RM1,200 per person (for group of two or more)

HRD Corp Claimable.
Training Programme No. 10001170903
Contact us
Alistair King Sdn Bhd
Tel: +6012 371 4091
Email: enquiry@aksb.com.my